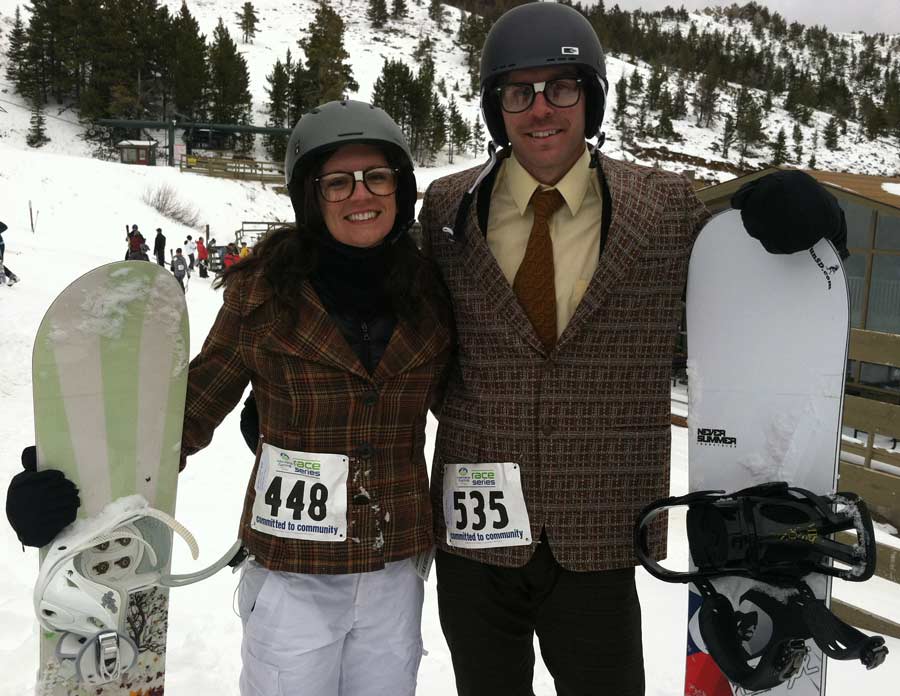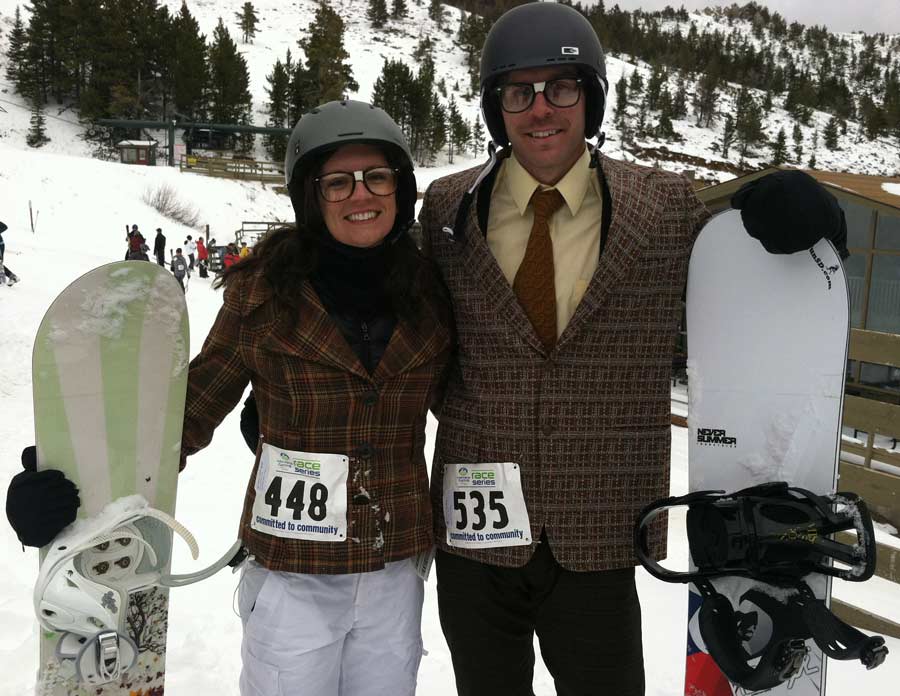 Angela and Rustin Nordsven of Spearfish, S.D. sport mismatched nerd outfits for the Grizzly Peak Adventure Race in Red Lodge, Mont. (Ruffin Prevost/Yellowstone Gate)
By Ruffin Prevost
RED LODGE, MONT. — Spectators at Saturday's Grizzly Peak Adventure Race could have easily imagined they were watching anything from a training exercise for the Russian military special forces to a video shoot for a new kids' TV show.
In its third year, the annual race combines skiing, bicycling and running over a 10.5-mile course that yields a unique set of challenges for diehard competitors, as well as a fun and rewarding romp for families and the more moderately fit.
Some competitors dressed up in silly costumes and cracked jokes at the starting line, while others were stone-faced and focused on shaving every possible millisecond off their times.
"It's such a unique race, particularly with the ski component giving people a chance to ski Red Lodge one last time," said Kayla Brown, a finish line timekeeper.
"This is a race that offers something for everyone, so it attracts people who get really competitive with their friends and also families and people who just want to be in a beautiful Montana race," Brown said.
More than 360 competitors signed up for Saturday's race, Brown said. That included teams whose different individual members could ski, bike or run, as well as approximately 250 solo competitors who completed all three legs.
Volunteers and competitors sort through ski and snowboard gear transported to the finish line of the Grizzly Peak Adventure Race in Red Lodge, Mont. (Ruffin Prevost/Yellowstone Gate)
The race began atop 9,416-foot Grizzly Peak at Red Lodge Mountain Resort, where several inches of new snow had fallen since the ski area closed to the general public the weekend before.
Skiers and boarders were launched in waves of approximately 20 competitors every five minutes. After a warning about skiing within limits—last year saw a few broken legs among the ski-related injuries—racers dashed 20 feet to jump into their bindings and rush 2 miles down the mountain. The strongest skiers covered the distance, a 2,400-foot vertical drop, in less than two minutes.
At the base of the mountain, skiers found their bikes and switched into running shoes, with savvy racers pushing to save time in the transition. A breakneck bike ride down the mountain was next, with top riders covering six miles of slushy dirt road and choppy pavement in less than 14 minutes.
Finally, bikers dismounted and ran 2.5 miles, including a segment along the bench above Red Lodge's main street, enjoying picture-perfect views of the town on the way to the finish line at Sam's Tap Room and Kitchen.
Each competitor got a drink ticket, good for one beer from race sponsor Red Lodge Ales. Brewery owner Sam Hoffmann said he probably poured 600 beers on race days, which meant he has been too busy the last three years to consider competing.
"I'd love to do it, especially because it's not a race that's as physically challenging, so that makes it right up my alley," Hoffmann joked.
Compared to other events in the Montana Cycling and Ski Race Series—such as the Yellowstone Alpine Klimb, which takes bicyclists on a 141-mile course over the 10,947-foot Beartooth Pass—the Grizzly Peak Adventure Race is mercifully fast and fun.
With the exception of a relatively small but steep hill early in the running segment, the whole course is either downhill or flat, dropping approximately 4,000 feet over 10.5 miles. Skiers and cyclists can coast at a comfortable pace, or push their limits down challenging hills, reaching speeds at times of 40-60 mph.
Top finishers covered the course in less than 35 minutes, averaging more than 18 mph in an exhilarating experience that left many racers elated.
"It's a good course, but I thought it was a lot tougher than I figured it would be," said Rustin Nordsven, who traveled with his wife, Angela, from Spearfish, S.D. to compete in the race after hearing about it from friends in Cody, Wyo.
The couple dressed up in matching nerdy ensembles complete with taped-up glasses and thrift shop sportcoats.


Download race results
for the 2013 Grizzly Peak Adventure Race.
"We've done lots of races, and everyone has always dressed up, so it's just kind of fun," Nordsven said.
His ugly sportcoat brought compliments from fellow competitors, although Nordsven confessed in the crisp morning air atop Grizzly Peak to having second thoughts about bringing a proper ski jacket.
"That's why they call it an adventure race," said someone a few rows back dressed in a knee-length jogging shorts.
Contact Ruffin Prevost at 307-213-9818 or [email protected].
Start of the 2013 Grizzly Peak Adventure Race