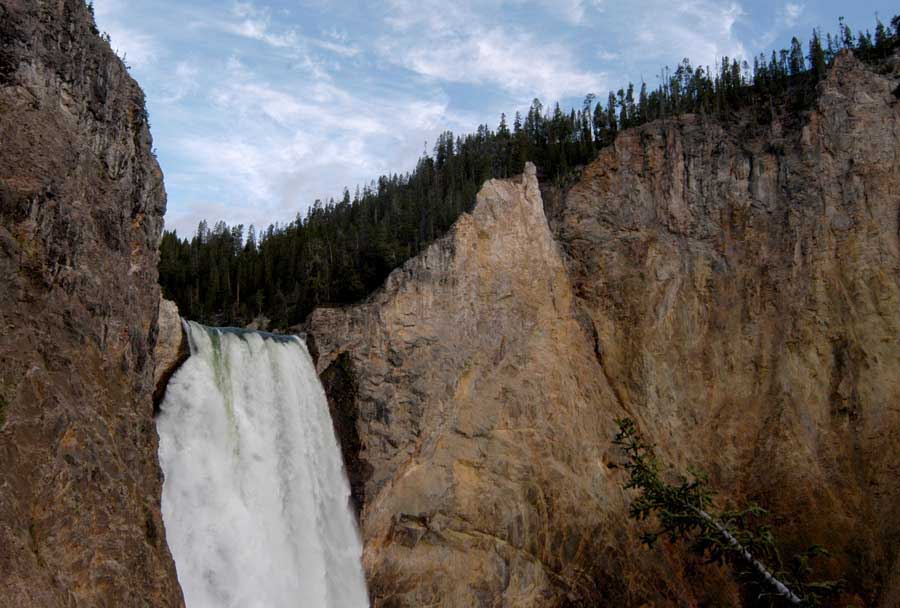 Uncle Tom's Trail in Yellowstone National Park offers a close-up view of the Lower Falls of the Yellowstone River. (Ruffin Prevost/Yellowstone Gate)
Parked for a Day is a user-submitted feature that lets readers share favorite activities in Yellowstone and Grand Teton national parks. Parked for a Day activities require parking the car, and can be done in a single day. Share your favorite Parked for a Day activity and we'll feature it on Yellowstone Gate.
By Ruffin Prevost
There are plenty of places in Yellowstone National Park where you can a great view of the Lower Falls of the Yellowstone River and the Grand Canyon of Yellowstone. But there's only one spot where you'll feel like you truly "earned" the view.
Uncle Tom's Trail is a strenuous series of more than 300 steel stairs that drop 500 feet, descending about three quarters of the way form the canyon rim toward the river below.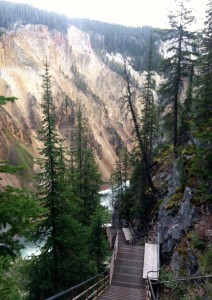 More than 300 steps make up Uncle Tom's Trail to view the Lower Falls of the Yellowstone River in Yellowstone National Park. They look even more daunting on the way up. (Ruffin Prevost/Yellowstone Gate)
It's not an easy trip, but it's one that can be done at a slow and measured pace, with plenty of benches and spots for resting along the way. The hike back up will get you winded and spent, but you'll have a view of the falls that most park visitors never experience in person.
H.F. "Uncle Tom" Richardson was an early guide and concessionaire who built the trail in 1898. It originally extended all the way to the river, and featured ropes along a dirt path to allow hikers to steady themselves.
After the completion of the Chittenden Bridge in 1903 and the installation by the National Park Service of wooden steps along the trail in 1905, Richardson realized few visitors would choose to pay $1 each for him to guide them along his rope-lined trail. Uncle Tom soon discontinued paid trips along the trail that still bears his name.
The Park Service replaced the wooden steps with metal ones in the 1930s, according to park historian Lee Whittlesey's book, "Storytelling in Yellowstone: Horse and Buggy Tour Guides." Around that same time, a series of heavy snows over several winters tore up those metal stairs closest to the river, and the Park Service truncated the trail to its current length.
While some might regret being unable to make the trip all the way to the bottom of the canyon, most hikers will be satisfied with the view from the lower platform, especially when they ponder the walk back up 328 steps, an ascent similar to climbing 20 flights of stairs.
Consider making the trip early in the morning, when it's less likely to be crowded, and when cooler temperatures make the climb more pleasant.
A reasonably fit person can make the round-trip from the parking lot and back in less than 45 minutes. Figure on perhaps twice as long if you're likely to need frequent rests along the way. A sign posted by the Park Service reminds hikers that at 8,000 feet above sea level, Uncle Tom's Trail is particularly strenuous, and is not recommended for those with heart problems our trouble breathing.
No matter how long it takes you, Uncle Tom's Trail is a challenging and fun way to see an iconic Yellowstone view from a different angle—one you will happily brag about to your friends who didn't make the trip.
Contact Ruffin Prevost at 307-213-9818 or [email protected].