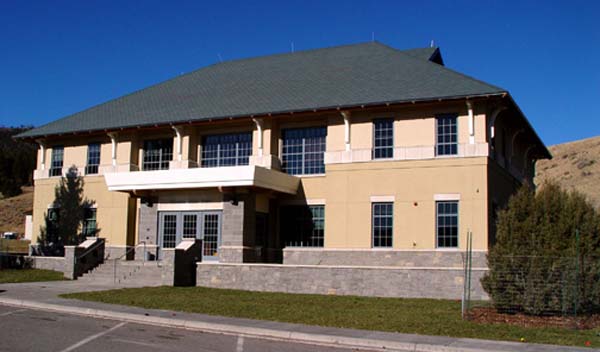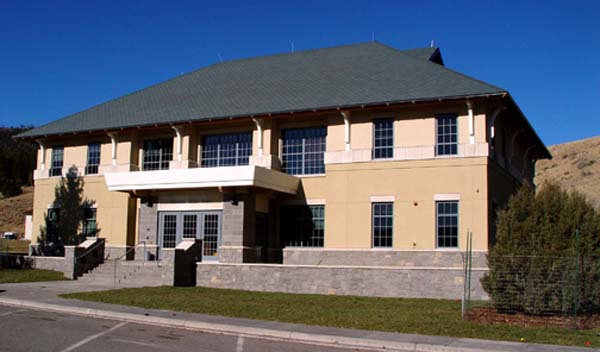 Yellowstone National Park has its own federal courthouse and jail located in Mammoth Hot Springs, Wyo.
From Staff Reports
A former attorney based in Billings, Mont. was sworn in earlier this week as United States Magistrate Judge for the District of Wyoming, to preside over the U.S. District Court in Yellowstone National Park.
Judge Mark Carman was selected by the federal district judges in Wyoming following an application and interview process. He will reside with his family in Mammoth Hot Springs, according to a statement released Thursday by the park's public affairs office.
The federal Lacey Act of 1894 was passed to protect wildlife, and also established the judgeship in Yellowstone National Park. Carman is only the fifth judge to fill the position.
He succeeds the late Judge Stephen Cole, who served for 31 years until his retirement last May.  John Meldrum was the first judge appointed to serve in Yellowstone National Park. Meldrum was appointed in 1894 and served 41 years.
Yellowstone Park is larger than Rhode Island and Delaware combined, and the park is divided into seven districts where rangers enforce a wide array of laws and regulations, ranging form speed limits to resource protection statutes. The park has its own jail and courthouse.
Cases brought before Yellowstone's magistrate may range from serious poaching violations or mining for minerals within the park boundaries without a permit to minor infractions such as removing resources like antlers, or even mushrooms.
The job of Yellowstone magistrate is considered a plum assignment, as it affords a home base in Mammoth and a work schedule that is relatively low-key compared with that of other federal judges.
Cole in 2002 told The Third Branch, a news service for the federal court system, that his "commute is about an eight-minute walk," and that "except for some trees, I can actually see my house from the courthouse."
Cole told The Third Branch that he can sit in the Yellowstone courthouse and see elk grazing on the lawn.
"It's the best job in the United States," he said.
Carman received his undergraduate degree in wildland hydrology from Colorado State University in 1978 and his law degree in 1981 from the University of Wyoming. He worked as a prosecuting attorney for district attorney offices in Casper, Wyo. and in California.
Carman practiced civil litigation as a shareholder with Williams, Porter, Day and Neville and with Balzer, Carman, Murdock from 1988 to 2005.  In 2005, he formed Carman Law Office in Billings, Montana, a litigation firm representing clients in Wyoming and Montana
Carman's practice focused on personal injury, aviation, and oil and gas litigation.  He taught aviation law as an adjunct professor for Rocky Mountain College, and holds a private pilot's license. Carman has been admitted to the practice of law in Wyoming, Montana, California and Colorado.
Carman and his wife of 26 years, Nancy, have three daughters. He enjoys equestrian competition, fishing, scuba diving and tennis. He has served on various nonprofit boards including Ronald McDonald House of Billings, Warfield Equestrian Park, Wyoming Symphony Orchestra and the Wyoming Medical Center Foundation.
Contact Yellowstone Gate at 307-213-9818 or [email protected]