Parked for a Day is a user-submitted feature that lets readers share favorite activities in Yellowstone and Grand Teton national parks. Parked for a Day activities require parking the car, and can be done in a single day. Share your favorite Parked for a Day activity and we'll feature it on Yellowstone Gate.
By Sandy Sisti
Grizzly bear: it's a name that inspires awe, fascination and fear in all of us. It's those feelings that drive photographers and wildlife watchers from around the globe to travel to Yellowstone early in the season to catch a glimpse of the great bear. Although most tourists visit Yellowstone National Park during summer, May and early June are considered prime viewing months for grizzly bears.
Like most of the park's residents, grizzly bears move to low elevation meadows in spring to feed on lush vegetation, retreating to the high country for the summer season. In spring, wildlife watchers awaken in the early morning hours to stake out grizzly hot spots before dawn. It's during dawn and dusk that grizzlies are most active, retreating to shady spots to nap when temperatures rise in the afternoon.
For wildlife watchers, the area around Yellowstone Lake is prime spring habitat for grizzly bears. Because Lake-area thermal features keep much of the hillsides free of lingering snow, this is a favorite early season haunt for Yellowstone's grizzly bears. When scouting this area for bears, Steamboat Point and Sedge Bay are two locations not to be missed.
Although still snow-covered in spring, Hayden Valley is another grizzly bear favorite. Be sure to bring your binoculars so you can glass the hillsides for grizzlies and other wildlife foraging for succulent spring grasses. Who knows, you might even catch a glimpse of a mother grizzly with cubs or a young grizzly playing in the snow. That's the great thing about Yellowstone, you never know what you might find!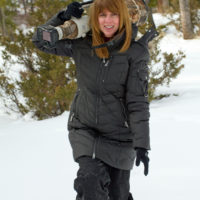 Wildlife-Watching Etiquette: No wildlife viewing experience is worth more than the well-being of your wild subject. For that reason, and for your own safety, you must stay 100 yards away from grizzly bears, black bears and wolves and 25 yards from all other wildlife in Yellowstone. For an optimum wildlife viewing experience, binoculars, spotting scopes and telephoto lenses are highly recommended.
Sandy Sisti is a wildlife and nature photographer based just outside the east entrance of Yellowstone in the heart of the Greater Yellowstone Ecosystem.